Libraries are living institutions, constantly evolving to adapt to the technological, financial, and organizational changes that have occurred, especially in recent decades, and that has accelerated since the turn of the century.
Therefore, there is always an open debate within the profession about the role that libraries should play at any given time, and the 21st century is no exception.
Mogens Vestergaard identifies in an article published in Princh in 2018 a change in the model for libraries, the change from the transactional to the relational model.
From our organization we were thinking about how we could make our contribution to facilitate this paradigm shift, but keeping in mind what libraries are and their traditional objectives.
Library Laboratories is a project born in collaboration between Library Coordination at the Spanish Ministry of Culture and Sports and Medialab Prado, a citizen laboratory for the production of open cultural projects, linked to the Madrid City Council.
Since 2017 we have been holding open debates in which library professionals talk with professionals from other disciplines about what the 21st-century library should be like, what demands it should respond to and what services it should offer to be a relational institution.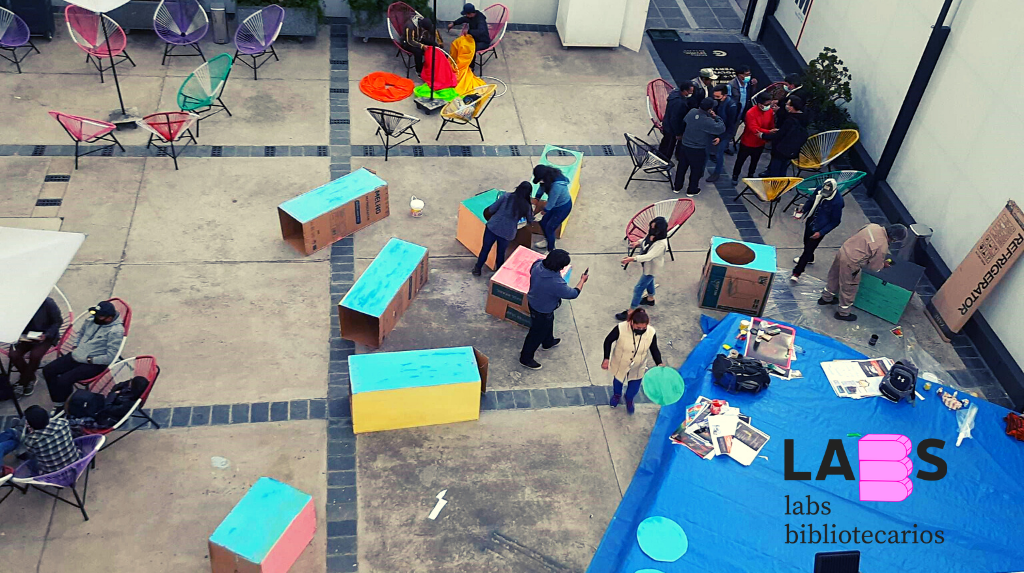 A new methodology for libraries
Medialab Prado had developed and perfected for 15 years a methodology that promoted citizen participation and that they had applied in different contexts. We really liked their work and started collaborating with them to see how we could apply it to libraries.
The methodology is simple: a citizen has an idea to introduce an improvement in his community and he is joined by other people who want to participate in its development. The organizing entity, in this case, the library enables what can materialize.
In 2020, when the pandemic hit, we decided to explore the possibilities that this methodology has for libraries. And we thought that a good way to do it was to explain the methodology so that any interested library can learn what it is and how to set up a citizen laboratory. We decided that the most suitable format was a MOOC, a massive and free online course.
The course is divided into 4 modules that take place over 4 weeks. In it, 14 teachers teach the contents through videos and texts in Spanish. Subsequently, in a second phase, everyone is invited to put what they have learned into practice and set up the laboratory.
The first two editions of the course had more than 5,000 participants from 34 different countries, and more than 100 laboratories were carried out in Spain and Latin America.
This year we are going to celebrate the 3rd edition of the course, which will take place between May 16 and June 17. The second phase will take place between September and November. During both phases from the organization, we give support and support to those libraries that want to test this methodology in their libraries.
This is the project website: https://labsbibliotecarios.es/
What possibilities does this methodology offer for libraries?
First, libraries can promote such a process to help improve their environment. Host a laboratory focused on neighbours working on common projects. For example: make a community radio, or design a series of debates around issues that concern the neighbourhood.
Libraries can open the management of their activities to the participation of their users. For example, a library wants to specialize in comics. Users can propose activities around that collection.
They can apply this methodology in the library's own management: workers can propose ideas for improvement in management or in their internal processes, that is, begin to manage horizontally. Libraries are highly hierarchical institutions.
We would be very interested in learning about similar experiences in European libraries. Please, comment on this article or send us an email to info@labsbibliotecarios.es
---
Diego Gracia is responsible for international cooperation at the Ministry of Culture and Sport in Spain, and the coordinator of the cooperation programme NAPLE Sister Libraries.
---